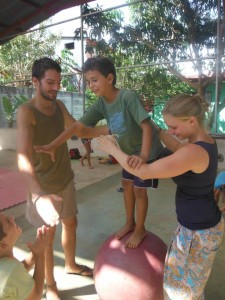 Volunteers who wish to join Vida Nueva are always welcome! The easiest way to apply is to send a letter of motivation to rolspendling@gmx.net and alexinbutter@hotmail.com.
The letter should point out the following topics:
– Name
– Date of birth
– Country of origen
– Formation
– Professional experience
– Experience abroad
– Particular capabilities and aptitudes
– Reasons and motivation for volunteering
– Forseen time of residence in Costa Rica
Conditions to be expected:
Working voluntarily with children and with the group; being autonomous; taking initiative; being responsible; motivation; creativity; adaptability; able to work under pressure and difficult cicumstances.
Volunteer work in Vida Nueva is done ad honorem. It is a voluntary commitment, which means the association can not assume any costs. So all Volunteers have to pay for their vaccinations, medical insurance, transport and boarding on their own.
We look forward to receiving your application! We will respond to all applicants as soon as possilble.